KJAZZ PRESENTS...
THE LYN STANLEY TRIO AT MR. MUSICHEAD GALLERY
KJazz DJ host Bubbah Jackson hosted this fun and entertaining evening.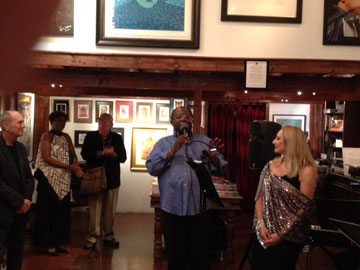 A NIGHT TO REMEMBER is the easiest way to reflect on a great evening at our recent KJazz event at Mr. Musichead Gallery on Sunset Blvd in Hollywood with the Lyn Stanley Trio. I want to thank Sam Milgrom, the owner (from Detroit), for opening up Mr. Musichead Gallery to the KJazz family. Immediately upon entering, you sense the gallery is a labor of love for the art that surrounds music and the musicians who make the greatest music in the world. The ambiance of the gallery visually grabs your attention to the "Art" of music. The photos, prints and books stimulate your memory of the Beatles, Miles Davis, Jimi Hendrix, Charlie Parker, Rock, Blues and Hip Hop artists. Then your eye catches a print and you remember that album cover and smile. David Martin Stone album jazz covers are well received in the jazz world. KJazz listeners were so happy to be able to visit a gallery that caters to our world.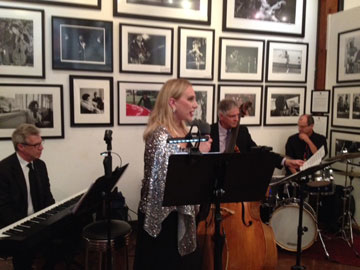 The icing on the cake in this gallery of jazz was when we experienced the sensational sound and voice of Lyn Stanley. With Lyn were her producer Steve Rawlins on piano, Luther Hughes on bass and John Ferarro on drums. It was truly a swinging affair that evening, dipped in romance. Lyn's love for lyrics, along with her romantic, swinging elegant voice, brought new life to songs we know and yet the impact was seductive. When listening to Lyn you hear the lyrics for the first time all over again. Her control, intonation and understanding of what it takes to make a song live again for the first time is refreshing. Lyn Stanley has that voice. She sang from her current CD "Lost In Romance" and gave us an exclusive -- a live performance of "Little Drummer Boy". And yes, you can hear it on KJazz. Thanks to KJazz , Mr. Musichead Gallery and Sam Milgrom for a sparkling and delightful evening. Check out Lyn Stanley's latest CD "Lost In Romance," available on iTunes and CD Baby.

Mr. Musichead Gallery showcases collections of art and photography by and about the world's leading Rock, Blues, Jazz and Hip Hop musicians. The Gallery is devoted to featuring a large and unique collection of fine art, photography, album cover art and poster art that chronicles American Music's rich heritage.
13
Member Memo from Development Director
Pamela Aronovitz


READ ARTICLE
KJazz Presents...
The Lyn Stanley Trio at Mr. Musichead Gallery


READ ARTICLE
Our Featured Partner
Westfield Culver City/Westfield Century City


READ ARTICLE
Volunteer News
~Volunteer Spotlights
~Volunteer sweepstakes winner
~Memorial for Carlita Broussard


READ ARTICLE