ARTIST SPOTLIGHT
ELLIOT CAINE
Los Angeles jazz musician trumpeter Elliot Caine, renowned for 1960's Blue Note style jazz took some time to chat with KJazz…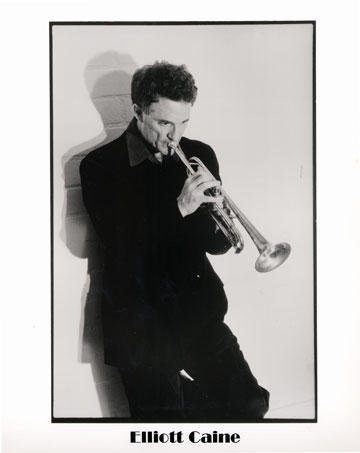 How did you first get involved in jazz music?
I first got involved with jazz music at age 18 when I was a student at Indiana University. Early in the school year, out of curiosity, I borrowed the lp's, "The Birth of the Cool", "Round About Midnight" both by Miles Davis, and "The Clifford Brown Memorial Album" from the dormitory library. I enjoyed the music even though most of it was over my head. Later in the year, I went to see the David Baker Quintet at a small concert. Dr. David Baker has been the chairman of the Indiana University Jazz Department for many years. In any case, I studied trumpet and jazz with David's trumpet player, Larry Wiseman, for a couple of years. I also took several music courses at the IU Music School, including David's jazz improvisation courses. David was very encouraging regarding my efforts to learn the basics of jazz improvisation, and imparted to me much knowledge and confidence in my music abilities. Within a couple of years, I started playing semiprofessionally with an R&B/"soul" jazz group that was popular in central Indiana, "Allison & Calvin Turner & The Soundmasters". A trumpet player about 5 years my elder, Marcus Brown, got me in that group. We did gigs in Florida as well as in Indiana. Playing with that group more or less gave me a genuine perspective of and attitude towards the music world. So, I guess you could say that I had a mix of academia and "the street" which got me going with jazz music. This was in the early '70's. In the later '70's and early '80's, here in LA, I studied with a brilliant pianist, George Lewis, who was a good friend and colleague of music greats, Larance Marable, Frank Butler, Don Cherry, Dexter Gordon, Dupree Bolton, Clifford Solomon, et al.
What was the first jazz album you purchased?
The first jazz album that I bought was "Kind of Blue" by Miles Davis. I still have that record.
Which artist(s) influence(s) you the most? Why?
I have been most influenced by Miles Davis, Lee Morgan, Clifford Brown, Freddie Hubbard, Woody Shaw, Fats Navarro, Diz & Bird, Art Blakey, Bud Powell, Monk and Herbie Hancock, Hank Mobley, Tito Puente and Mongo Santamaria. Lately, I've been listening to a lot of Chet Baker; I really like his lyricism. Likewise, with Paul Desmond. I'd say that Lee Morgan has been my number one influence; his sound and ideas and soulfulness have always done it for me.
To date, what has been the most influential or best concert you have attended?
It is difficult to say what has been the best concert that I've been to. I saw Sonny Rollins at The Palace in Hollywood in the '80's, which blew me away. One of the times that I saw Diz in Indianapolis in the 70's also was memorable. Also, going to a Duke Ellington Orchestra concert was a real treat for me. I have been lucky enough to have seen other giants of the music such as Lee Morgan, Miles, Freddie Hubbard, Bill Evans, Dexter Gordon, Jackie McLean, Mingus, et al.
What are some of your hobbies?
At the present time, I have very few hobbies. I do like to read or see a good movie, but aside from my day job & music career and family, there is not much time for anything else. In the past, when I had a bit more spare time, I actively participated in antiwar movements as well as supporting liberation movements around the world, and social justice actions here in the USA.
Why is it important to support KJazz?
I feel that it is important to support KKJZ because it is the primary jazz music outlet in southern California. It is important to realize that jazz music is a vital, living music, and not a museum piece of American culture!


13
Member Memo from Development Director
Pamela Aronovitz


READ ARTICLE
KJazz Presents...
The Lyn Stanley Trio at Mr. Musichead Gallery


READ ARTICLE
Our Featured Partner
Westfield Culver City/Westfield Century City


READ ARTICLE
Volunteer News
~Volunteer Spotlights
~Volunteer sweepstakes winner
~Memorial for Carlita Broussard


READ ARTICLE